Designing the workplace of the future requires leaders to adopt a new mindset about employee needs, as well as new strategies and tools to keep the team focused, engaged and energised. Now more than ever, organisations need to reflect on the ways in which they can support their employees to be able to work and feel their best and keep teams engaged and productive - but what does this actually mean?
A new workplace comes to life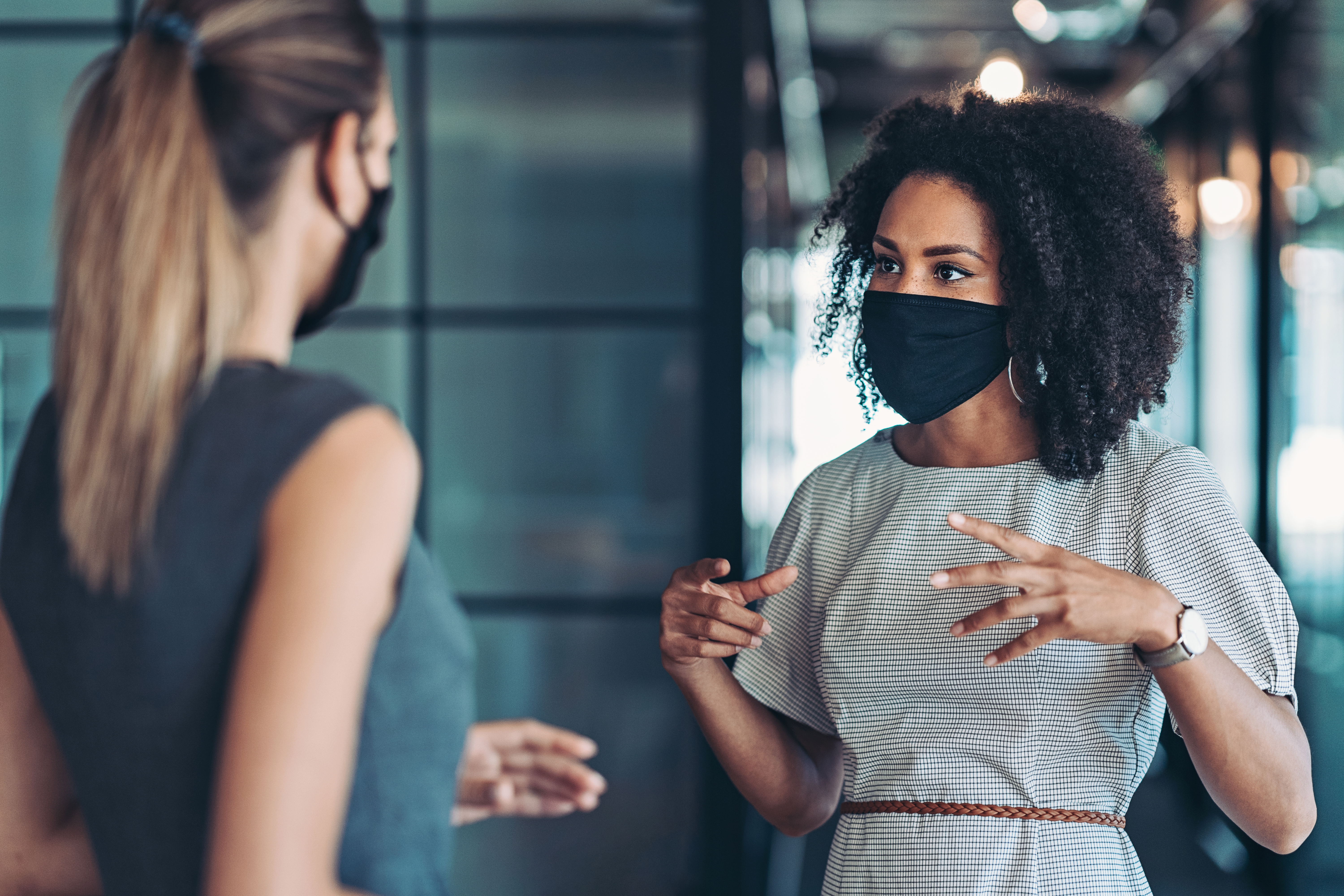 Almost as soon as the pandemic began, speculation about the future of office space was in full swing.
We wondered when people would be willing or able to return to offices. We wondered how forced remote working would affect the perspectives of employers who had previously been reluctant to embrace it. For the most part, businesses and people have coped well. Even thrived.
Research tells us that employees are keen to come back. The real question facing most companies is where they should stand on the hybrid working spectrum and whether this position should evolve over time.
People know that the time they spend with their colleagues can be invaluable. Not just in terms of the work they can accomplish, but because of the social interaction and cultural norming that simpin the mix. As productive as many have been (and will continue to be) on their days at home, the workplace is a major part of why people enjoy and engage with their jobs.
Our latest report 'Breathing Space: A new workplace comes to life' recognises the concept of the elastic office - a more flexible workplace design concept that stretches, contracts and reconfigures to meet the needs of the people who use a space.
Breathing Space: A new workplace comes to life
Our report, we investigate why spaces need to be living, breathing and fluid to cater to these needs, and what firms can do to make them a reality.
Download the report to uncover the impact of technology in the workplace

Surely there is a temptation to simply reduce office space. A Financial Times report noted JP Morgan, Lloyds and HSBC all plan to scale back their physical estate while introducing more communal and collaborative spaces.
But the elastic office goes further than adapting to fewer people on site.
The elastic office: What is a flexible workplace?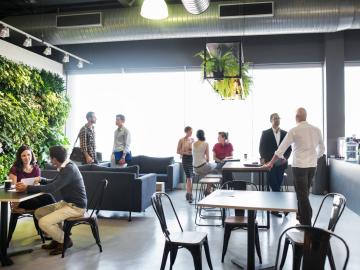 More than 60% of senior leaders interviewed for a Deloitte survey said they are now focused on reimagining and redesigning office space, rather than continuing a pre-pandemic model of optimising and economising it.
For the most innovative companies, that means embracing creative workspace design that responds to new and varied office needs. This new approach to design precipitated the injection of a best-in-class design partnership to ensure Sodexo's Vital Spaces approach to services was able to rise to new challenges.
Our clients are aware how critical office design is in reflecting the identity of the organisation. Workplaces have become social currency and can be key in attracting and retaining the talent. We felt we could truly enhance the reimagining of these spaces with the addition of a specialist design approach, which is why we partnered with TSK. Workplace design needs to look and feel amazing, and it must also work seamlessly, be durable and add value. Our clients are already seeing the difference as spaces are designed with developed with deep workplace knowledge and employee insights.
Similarly, Microsoft had been working on a new campus in Israel for several years before it opened in early 2021. The new office reflects a desire to move away from a limited number of workspace options to create a truly hybrid and flexible working environment.
Lead architect Vered Gindi explained that rather than consider a small handful of "typologies" such as public meeting rooms and open-plan office space, they aimed for closer to 500.
"People who like to work in a vivid space with lots of people and a lot of buzz will be able to do this," she said. "And people who require quiet and are more sensitive to daylight will be able to get their quiet moments within the building." This is achieved in part through the creation of distinct areas or hubs with their own identity and design. Desks, shelving and acoustic partitions are all adaptable, enabling teams to easily reconfigure the space. This could be to allow larger groups to come together or divide things up into smaller sub-teams.
World-leading flexible workplace design goes far beyond switching from assigned working areas to hot desks. In the elastic office, a space can change entirely to reflect the needs of the teams working there. "We aimed to create a space that would continue to be relevant for decades, no matter what comes next," said Gindi.
Benefits of a flexible workspace: Better designed, better to work in
Insightfully-developed hybrid offices will become the gold standard because they facilitate meaningful work and collaboration. They are shaped by employee demand for more intuitive, more responsive environments and a desire to collaborate and share experiences without sacrificing independence.
In the course of researching our Breathing Space report, we also spoke to Prescott Gaylord, Head of Sustainability, Corporate Real Estate Strategy and Administration at DBS Bank in Singapore. He told us people are no longer coming to the office simply to be there. They are looking to accomplish something specific. "If you're there for collaboration, the space needs to be versatile enough for you to collaborate in the way that you need to collaborate," he said. "It needs to be focused on both the new tasks and the wellbeing of everybody involved."
Wx, Sodexo's workplace design consultancy, uses new space experience technology to help companies design spaces that work for them.
"If you believe that being part of an organisation means being with and around others, sharing the highs and lows of the collective mission, then your responsibility is to build spaces that offer a strong gravitational pull. Build it brilliantly and they will come."
Leesman - Why Workplace Leader's Guide
Improving sustainability in the workplace is one of the key advantages of this approach. Understanding how people use a space allows a company to reduce energy consumption as well as build in more efficient features.
The University of Cambridge, for example, is retrofitting a building it hopes will set new standards for low energy use and impact on natural resources. The site of the Institute for Sustainability Leadership is intended to be more collaborative and will feature digital conferencing facilities to support hybrid working.
Every organisation will have different needs and priorities as they adapt to new working models and perceptions. A more insight-driven and responsive workplace design - an elastic office - provides opportunities to inspire employees, as well as support them. This approach to workspaces helps to create a culture in which employees feel engaged and understood.
As Gaylord from DBS explains, a workplace that responds to the changing needs of teams and individuals is a powerful proposition: "Your spaces become better designed, better to work in, and everybody wants to come to work more."
Vital Spaces
Does your workplace experience measure up?